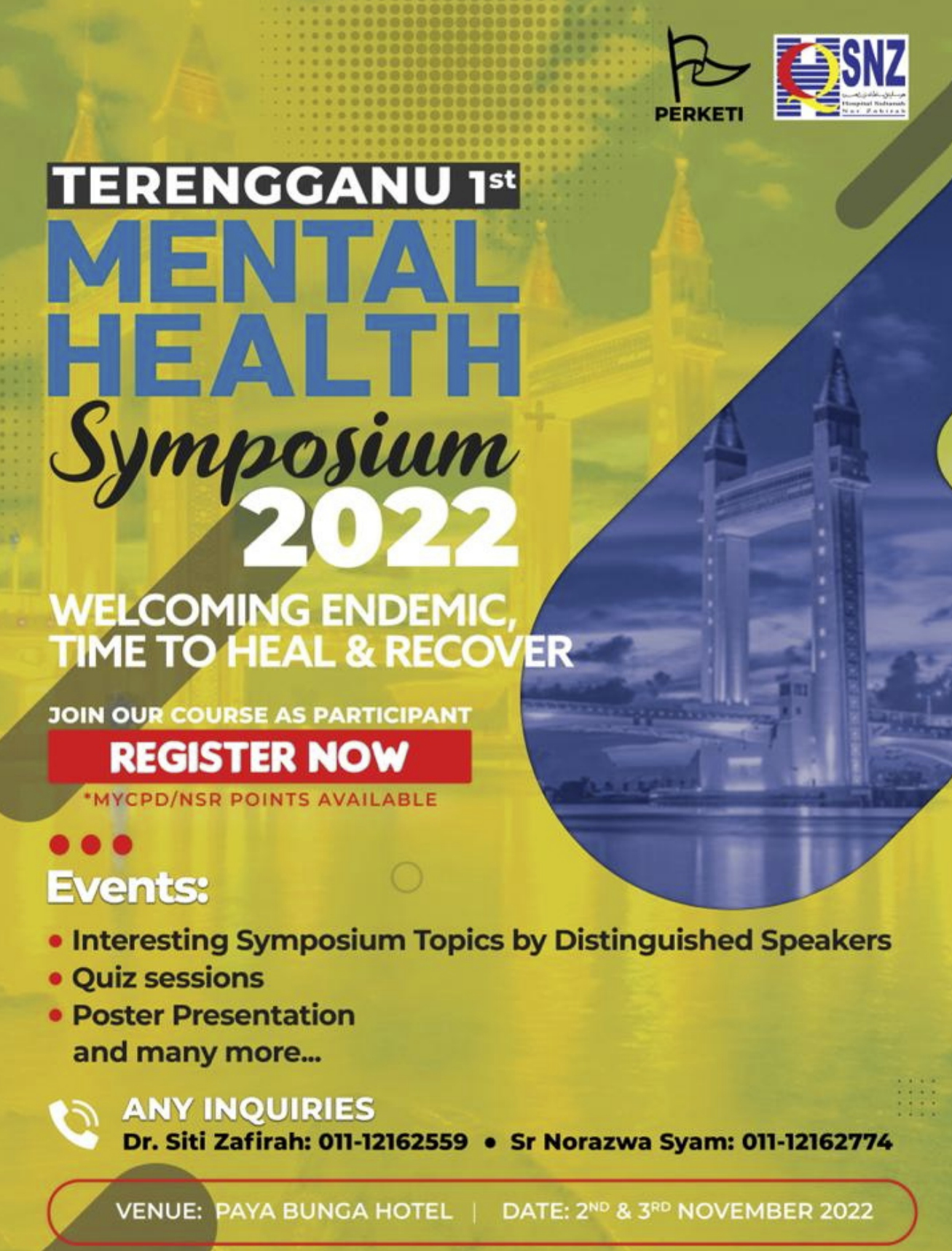 𝗧erengganu First Mental Health Symposium
*Second Announcement*
Persatuan Kebajikan Psikiatri Negeri Terengganu (PERKETI) and Department of Psychiatry & Mental Health Hospital Sultanah Nurzahirah proudly present:
*𝗧erengganu First Mental Health Symposium*
Theme: Welcoming Endemic: Time to heal & Recover
Date: 2nd & 3rd of November 2022 (Wednesday – Thursday)
Venue: Paya Bunga Hotel
Target participant: Health Care Providers
This two-day symposium aims to provide relevant update of emerging mental health problems. Topics that will be covered include community psychiatry, addiction, consultation liason, psychogeriatric and many more (Kindly refer to our website for full itinerary) https://perketihsnz.wixsite.com/website
This symposium features fabulous line-up of distinguished speakers you won't want to miss.
Join us and interact with the experts to understand more of the important mental health challanges during endemic era. Special offer for early birds before 31st of August 2022.
For registration, please scan the QR code on the poster or click this link : https://forms.gle/9xLBpFSLnzsWDNVs8
*Participants will be entitled to 16 Medical Specialist CPD points*
CPD points and e-certificate will be provided after the event.
For further enquiry, kindly contact
Dr Zafirah (01112162559)/Sister Norazwa (0112162774) or email us at : perketihsnz@gmail.com
Please stay safe and thank you for your continued support.
On behalf of the committee :
Dr Nur Syamimi Binti Che Md Azim
President,
Persatuan Kebajikan Psikiatri Negeri Terengganu (PERKETI)
TENTATIVE (1)